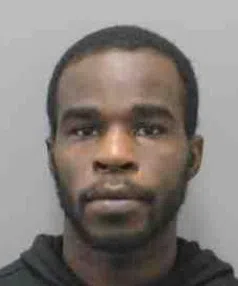 A 36-year old Auburn man faces drug and weapons charges after the Finger Lakes Drug Task Force executed a search warrant at 3 Spring Street on Friday.
In a statement, Auburn Police Sgt. Timothy Spingler says the Task Force was assisted by the APD K-9 Unit, the New York State Police Community Narcotics Enforcement Team and the New York State Army National Guard Counter Drug Task Force when task force members executed the search warrant at 9:00 am on January 6.
The raid followed an investigation into the sale of marijuana and narcotics. Officers seized more than two pounds of marijuana, an assault rifle and $1,500 in cash.
Michael Shonchaz Gainey is charged with third-degree criminal possession of a weapon, second-degree criminal possession of marijuana, both class D felonies, and misdemeanor fourth-degree criminal possession of a weapon and two counts of second-degree criminally using drug paraphernalia.
The investigation is continuing, and additional charges may be forthcoming.