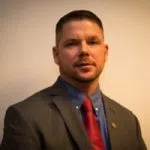 Cayuga County's government is on the right track in 2019.
That was the opinion of outgoing Legislature Chair Patrick Mahunik on Wednesday's Finger Lakes Morning News. He said lawmakers were able to trim as much as possible in the recently passed county budget.
He added the county is more fiscally responsible now than he's ever witnessed in his elevn years in the legislature.
Mahunik is stepping down after just one year as Chair of the legislature. He said he wanted to give County Administrator J. Justin Woods the year to get settled into his position.