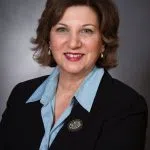 Cayuga County and the 56 other upstate counties that operate DMV offices are going to face a tough fight as they seek to double the 12.7% fee for services rendered received from the state, a fee that hasn't changed since 1999.
County Clerks say enhanced driver's licenses and the federal government's document requirements for Real ID are stretching local resources.
Sue Dwyer said on Monday's Finger Lakes Morning News there's another issue that will further burden her staff.
Dwyer said with the Democrats holding power in all three branches of state government, the odds are slim that their push for a long-overdue raise will be successful.