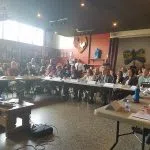 The Auburn DRI local planning committee will host a public workshop next Tuesday at the Booker T. Washington Center that will address the perception that traditionally marginalized members of the community have been left out of the DRI planning process.
Planning committee member Ray Richardson from the Auburn/Cayuga NAACP said on Wednesday's Finger Lakes Morning News the committee has extended the deadline to submit a plan.
Rev. Patrick Heerey from Westminster Presbyterian Church said the committee is encouraging creative collaboration.
Tuesday's workshop is open to everyone. There is an open house with food being served from 5 until 6:30 with the workshop to follow. You can get more information by clicking on the DRI link at the top of the City of Auburn's home page.