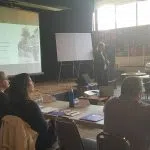 The next Auburn DRI Local Planning Committee Meeting is set for Tuesday, December 18 at 3:30 pm at the Holiday Inn, followed by a public workshop at 6:30 pm.
Cayuga Strategic Solutions Executive Director Tracy Verrier said on Friday's Finger Lakes Morning News it's getting down to crunch time for the committee members.
She added a public workshop scheduled for January 8 at the Booker T. Washington Center will address the perceived notion that minorities have been left out of the DRI process.
Committee members Ray Richardson from the Auburn/Cayuga NAACP and Rev. Patrick Heerey from Westminster Presbyterian Church will talk about the workshop at 8:38 am on January 2 on WAUB.