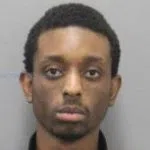 A Queens man is in the Cayuga County Jail after being picked up by the NYPD.
Auburn Police Captain Jim Moore tells Finger Lakes News Radio 19-year old Dashaun Gray is accused of using counterfeit $100 American Express travelers checks in July to purchase small items and pocketing the change.
Gray is also wanted in Camillus and elsewhere in the state.
Auburn officers made the round-trip to New York City and brought Gray back early Wednesday. He's scheduled for a preliminary hearing in Cayuga County Court next Tuesday.