UPDATED 3:30 pm 12/6
The details of the long-awaited draft master plan for the water and sewer infrastructure in Cayuga County were released on Thursday afternoon.
County Water and Sewer Authority consultant Doug Selby and Greg Mosure from the Barton & Loguidice engineering and consulting firm delved into the costs associated with replacing the aging municipal systems, some of which are 80 to 100 years old.
Mosure said a lot has changed in Cayuga County since the last study was done the 1970's.
Selby said the battle against harmful algal blooms in Owasco Lake led to another major segment of the study.
The draft study looked at a number of factors for several alternative sources of water for the county.  The most cost effective would be tapping into the Onondaga County Water Authority system or connecting Cayuga Lake to the county's water system.
The complete draft report will be released in the coming weeks.  There is more information available online at the Authority website.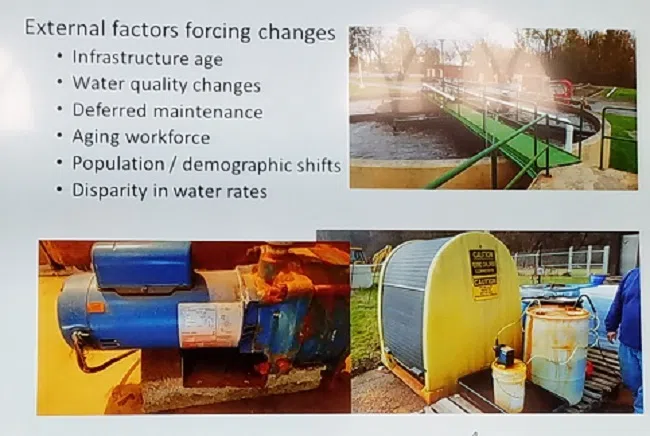 ---
The Cayuga County Water and Sewer Authority will unveil its infrastructure master plan on Thursday afternoon.
Consultant Doug Selby said on a recent appearance on the Finger Lakes Morning News the draft report will look at how to improve the aging infrastructure across the county. The number of residents in rural areas could be an impediment to the idea of county-wide water and sewer systems.
Selby says the authority wants to be able to update the crumbling infrastructure in the county while keeping costs to taxpayers to a minimum.
The public meeting gets underway at 2 in the City Council Chambers at Auburn Memorial City Hall.