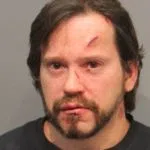 An Auburn man is behind bars after allegedly being found in bed with a 10-year old girl.
Auburn Police Captain James Moore tells Finger Lakes News Radio officers were called to the Oak Creek Apartments by the girl's mother shortly after 2:00 am on Friday morning.
43-year old Charles Saunders is being held at the Cayuga County Jail on charges of Endangering the Welfare of a Child and Forcible Touching.
Captain Moore says Saunders is known to the family of the victim.