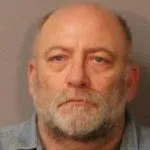 An Auburn man has been charged following a raid by the Finger Lakes Drug Task Force.
The Cayuga County Sheriff's Office reports 54-year old Thomas Hutton was arrested on multiple drug charges on Wednesday, November 21 after Task Force members executed a search warrant at his Orchard Street home on Friday, November 9.  The house was allegedly being used to manufacture methamphetamine.
Several people, including children, in the home at the time of the raid were taken to Auburn Community Hospital for observation. Orchard Street was closed from Baker to Jefferson streets for several hours as investigators and State Police specialists removed hazardous materials from the scene.
Hutton is being held at the Cayuga County Jail. The investigation is continuing and more arrests are expected.
If you have any information you can contact Detective Blanchard at (315) 253-3902 or leave a tip at the Sheriff's Office website.  As always, you can remain anonymous.