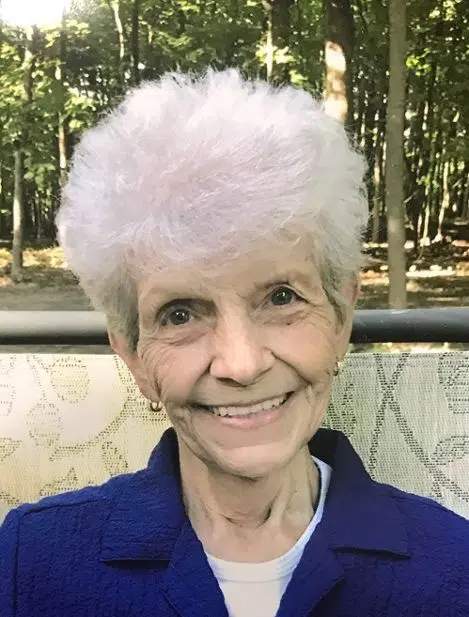 Eva M. Gottshall, 79, of Eureka, IL, passed away at 12:28 p.m. on Thursday, November 22, 2018 at her residence.
Eva was born on October 12, 1939, in Dundee, NY, to Charles B. and Eva Maedore (Clark) Cady. She was given the name Eva in honor of her mother and aunt. She married Paul L. Gottshall on May 22, 1959, in Dundee, NY. Paul passed away on April 2, 2018, and so they enjoyed 58 years of marital bliss.
Survivors include two daughters, Lorraine (Dan) Wilson of Plano, TX; Amy (Chuck) Ely of Seattle, WA; one son, Paul C. (Arlene) Gottshall of Washington, IL; two brothers, Lloyd (Barb) Cady of New Iberia, LA; Duane (Pat) Cady of Dundee, NY; 10 grandchildren, and 12 great-grandchildren.
She was preceded in death by her parents, her brother Charlie (Judy) Cady, and one son who died shortly after birth.
Eva was a devoted Christian, and a loving wife, mother, grandmother, and great-grandmother. The family has many fond memories and pictures of Eva with the family, always with a smile on her face. She was an active member of Living Faith Fellowship Church in Eureka, and a member of the Woodford County Historical Society for many years. In previous years she was very involved in community events, was a Board Member and volunteer of the Eureka Et Cetera Shop, and was President of the Eureka Women's Club. Eva also enjoyed gardening, bowling, sewing, time on their Christmas tree farm and collecting antiques.
Eva graduated with a degree in Nursing alongside her daughter Lorraine in 1980, and worked as a registered nurse at Eureka College and Eureka Hospital for many years until she retired.
Visitation and funeral services will be held. Visitation will be held on Wednesday, November 28, 2018, from 5 – 7 p.m. at Argo-Ruestman-Harris Funeral Home in Eureka, IL. Funeral services will be held on Thursday, November 29, 2018, at 11:00 a.m. preceded by a 10:00 a.m. visitation at Argo-Ruestman-Harris Funeral Home in Eureka, IL. Pastor Brett Woerner of Living Faith Fellowship Church will officiate. Burial will be in Olio Township Cemetery in Eureka, IL.
Memorial contributions may be made to the Living Faith Fellowship Church Building Fund. Online condolences may be sent to the family at www.argoruestmanharris.com.