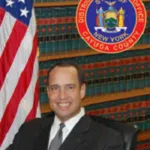 The Cayuga County Judicial and Public Safety Committee on Wednesday approved two resolutions requested by District Attorney Jon Budelmann. Both resolutions would allow Budelmann to bring his office up to a full staff of prosecutors.
The Citizen reports the first would allow him to hire a senior assistant DA. The second would allow him to keep a prosecutor who lives outside of the county on staff. Budelmann hired the attorney on a temporary basis in January, but he lives in Camillus in Onondaga County.
If the full county legislature approves the request for the exception to the residency requirement, it would still need the approval of the state Legislature.