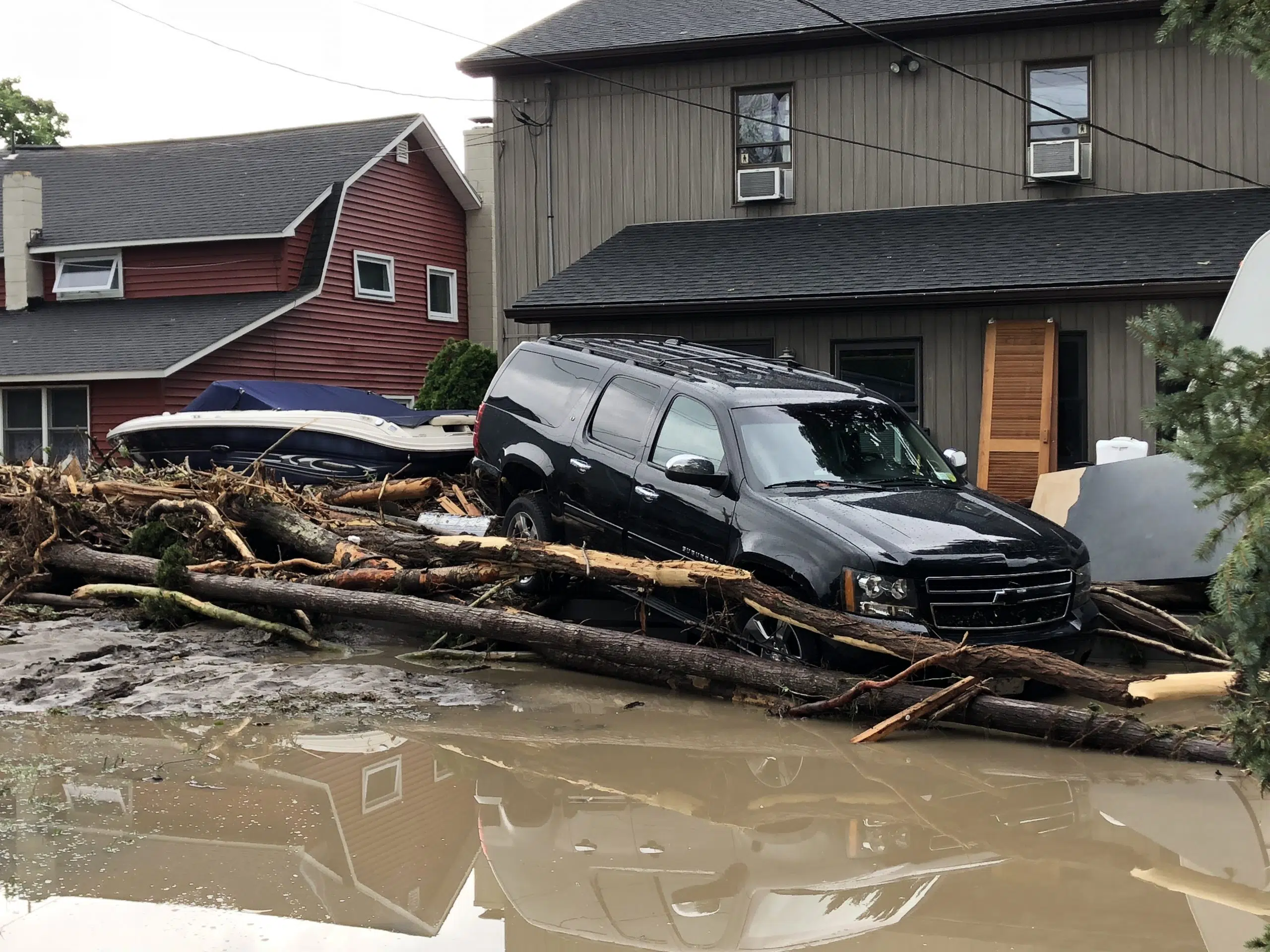 The Federal Emergency Management Agency has approved New York State's request for a major disaster declaration following the severe thunderstorm and floods that battered counties across the Finger Lakes and Southern Tier from August 13th to 15th of this year.
During this thunderstorm, up to nine inches of rain fell in some areas over the span of a few hours, causing creeks and waterways to overflow that then swept down trees, roads, property, and debris. Specifically, FEMA will be providing disaster assistance funding to Broome, Chemung, Chenango, Delaware, Schuyler, Seneca and Tioga Counties.
We care about those impacted by the devastating flooding this past August," Congressman Tom Reed said. "This is why we reached out to the White House for recovery assistance to ensure our communities have fair access to the resources they need to rebuild."
"This is an important step forward to assist the recovery efforts of many regional counties, and we are grateful for Tom's diligence in bringing this need to the attention of President Trump and federal leaders," Senator Tom O'Mara said. "Now we will also continue working together on the effort to secure additional help for individual homeowners and businesses."
"Our community came together during the August flood event to support neighbors in need. Standing side by side with our first responders, every level of government continues to work together to deliver critical aid and services," Senator Pam Helming said. "This is the way government should work, for the people. Families lost everything and local infrastructure in these small communities sustained millions of dollars in damage.
"I thank Tom for his partnership and aggressive efforts on behalf of our region. This federal assistance will help our local municipalities. Together, we will continue working with the State to secure financial assistance for the homeowners and businesses impacted. We will rebuild. The people of southern Seneca County have shown that they are strong and resilient. We will recover from this natural disaster by continuing to work effectively together," Senator Helming concluded.
"This federal declaration is a critical piece of the ongoing recovery effort and we appreciate Congressman Reed's leadership in securing it," Assemblyman Phil Palmesano said. "It also remains imperative for all of us to work together with Governor Cuomo and his administration to secure additional state-level assistance for urgent local recovery efforts. "This flooding has severely impacted many local homeowners, businesses and property taxpayers beyond what the federal declaration addresses. New York State has recognized this need in the past when flooding has devastated area communities, and we are working to ensure that the Cuomo administration recognizes and understands the current emergency," Assemblyman Palmesano concluded.
"Thanks for the great news that you were able to secure the Federal Declaration to trigger the release of FEMA Public Assistance funding to reimburse communities for emergency work and the repair or replacement of disaster-damaged facilities during the flood that happened on August 13-15, 2018! Thanks for being our Congressman, Tom Reed," Town of Lodi Supervisor Lee Davidson said. "This is much needed help for our County and Town."
"This is an important and vitally-needed shot in the arm for the Rochester-Finger Lakes and Southern Tier communities that were ravaged by the devastating flooding this August. It will provide critical federal funds for seven flood-impacted counties throughout the two regions, greatly enhancing recovery and rebuilding efforts," said Senator Schumer. "I am pleased that FEMA heeded our call by agreeing to help these harshly impacted communities, and will always fight to secure crucial federal assistance whenever New York State is hit by severe weather."
"I'm grateful that FEMA has approved New York State's request and will provide the federal assistance necessary for communities in the Rochester-Finger Lakes and Southern Tier regions to recover from this summer's storms," said Senator Gillibrand. "Many of these communities were severely flooded and are still recovering from the damage. I pushed for this disaster declaration because it will provide much-needed federal funding to help expedite the recovery process. I will continue to work with FEMA to make sure that our communities receive the support that they need to rebuild."
When a disaster declaration is declared, grant assistance is made available to state and local governments, as well as certain non-profit organizations, to reimburse costs incurred for emergency work and the repair or replacement of damaged facilities. This funding is available on a cost-sharing basis; FEMA generally covers 75 percent of the eligible costs for permanent and emergency work.