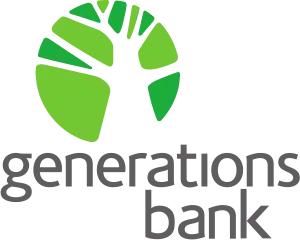 Seneca-Cayuga Bancorp, Inc., the holding company for Generations Bank, has completed the merger with Medina Savings and Loan Association ("Medina") as of Monday. This merger is expected to increase Seneca-Cayuga's consolidated assets from $291 million at December 31, 2017 to $335 million.
Today announced the execution of an agreement pursuant to which Medina will merge with and into Generations Bank with Generations Bank as the surviving entity.
What was previously Medina's branch offices are now branch offices of Generations Bank and will operate under the name "MSL, a division of Generations Bank" for at least two years after completion of the merger. Additionally, two members of Medina's board of directors will become members of the boards of directors of Generations Bank, Seneca-Cayuga and The Seneca Falls Savings Bank, MHC (the "MHC"), the mutual holding company of Generations Bank and the 56.9% majority shareholder of Seneca-Cayuga. **
Under the terms of the agreement, depositors of Medina will become depositors of Generations Bank and members of the MHC, and will have the same rights and privileges in the MHC, as if their accounts had been established in Generations Bank on the date established at Medina. As part of the transaction, Seneca-Cayuga will issue shares of its common stock to the MHC in an amount equal to the fair value of Medina as determined by a third-party appraisal. These shares are expected to be issued concurrent with the completion of the merger.
Because the transaction is structured as a merger with a mutual entity, no purchase price is being paid in connection with the transaction. As a result, the transaction is not expected to be dilutive from a capital or earnings perspective to Seneca-Cayuga's stockholders while increasing its earnings base. In addition, the transaction could be expected to add to Generations' value should it ever implement another stock offering or a second step stock conversion.
Menzo Case, President and Chief Executive Officer of Generations Bank, stated "We are pleased to announce our partnership with Medina Savings and Loan. We are very familiar with Medina, its conservative approach to banking and its deep roots in the communities it serves. We are very excited about the future of our combined company."
Tim Moriarty, retired President and Chief Executive Officer of Medina, said "We've always focused on our community and what our banking clients need. We feel that this merger is an excellent opportunity to enhance the services to and convenience for our customers and the communities we serve. Partnering with Generations will allow us to continue providing our customers with a high level of personalized service and local decision-making while preserving our values of our community bank culture."