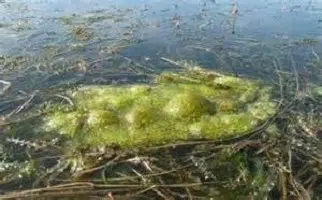 Two more Harmful Agal Blooms have been confirmed on Seneca Lake. That's according to the Seneca Lake Pure Waters Association.
So far this year, 48 suspicious blooms have been identified on the Finger Lake, with 41 being confirmed as blooms and 4 confirmed as toxic blooms.
The Upstate Freshwater Institute in Syracuse is using advanced analysis to find out if any additional blooms located on Seneca Lake were considered toxic.
the NYSDEC HABs Program has established four levels of bloom status:
• No Bloom: A report has been evaluated by DEC HABs Program or NYSDOH staff, and there is a low likelihood that a cyanobacteria bloom is present or the laboratory results indicated that no bloom was present.
• Suspicious Blooms: A volunteer, trained by Pure Waters and the NYSDEC, have spotted a possible HAB, collected a water sample and submitted the sample for laboratory analysis.
• Confirmed Blooms– a suspicious bloom that has had extensive testing completed by the Finger Lakes Institute and Upstate Freshwater Institute (UFI) in Syracuse. The analysis shows that the water sample exceeds the NYSDEC Confirmed Bloom threshold of 25 µg/L Bluegreen Chlorophyll.
• Toxic Bloom– a confirmed bloom sample has been extensively tested by UFI and the results indicate the bloom produced high levels of toxins. One of the following criteria must be met: (1) microcystin ≥ 20 μg/L (shoreline samples only); (2) microcystin ≥ 10 μg/L (open water samples only); (3) known risk of exposure to anatoxin or another cyanotoxin, based on consult between DEC HABs Program and NYSDOH staff.