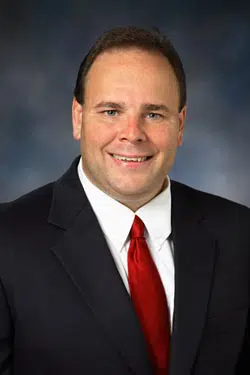 Assemblyman Phil Palmesano has been named by Assembly Minority Leader Brian Kolb to co-chair the Assembly Minority Conference's new task force to study and make recommendations to improve infrastructure and transportation across the state.
Furthermore, the assemblyman will be kicking off the series of forums across the state Tuesday at SUNY Broome Community College in Binghamton.
"For years I have been encouraging my colleagues in Albany to make a more substantial investment to repair and rebuild the crumbling infrastructure across our state. We have seen some success in terms of obtaining increased funding to help improve our local roads, bridges and culverts over the past six years through important programs like the Consolidated Local Street and Highway Program (CHIPS), PAVE NY and the Extreme Winter Recovery program," said Palmesano. "However, there are still tens of billions of dollars in critical unmet needs in our state and local transportation systems. This is a serious public safety issue and, as a state, we must be proactive rather than reactive in addressing this dangerous situation, which is the goal of our task force. There are still too many communities with old and unsafe bridges and roads, and too many potholes to count. As upstate New York continues to battle against flooding, difficult winters and other financial challenges, this further endangers the safety of motorists and residents and compromises the ability of our local economies to rebound."
Palmesano will be co-chairing the Task Force on Critical Infrastructure and Transportation with Assemblyman Kevin Byrne (R,C,I,Ref-Mahopac) and will bring together federal, state and local highway officials, first responders, members of the community, and relevant industry professionals to discuss local projects as well as regional concerns at a series of forums held throughout September and October. The goal of the task force is to compile the expert findings into a report that will be submitted to the governor, legislative leaders and will be available to the public with recommendations to better address the entire state's infrastructure needs.
"We need to drastically sharpen our focus on the deteriorating conditions of the state's roads, highways and bridges," said Assembly Minority Leader Brian Kolb (R,C,I,Ref-Canandaigua). "In every region of the state, there is a growing need for capital projects, upgrades and investments, many of which are too costly or complex for local municipalities to handle on their own. Our transportation task force will listen to the ideas and concerns of people about how to best address the serious challenge of improving our transportation network."
In addition to the Southern Tier Regional Forum tomorrow, upcoming forums will be held in Central New York (September 26), Suffolk County (October 10), Nassau County (October 11), the Capital Region (October 15), Rochester Area (October 17), Western New York (October 18), and the Hudson Valley (October 25). For details or more information on the task force or one of the upcoming regional forums, please contact the assemblyman's office or the Assembly Minority Office of Public Affairs at (518) 455-5073.