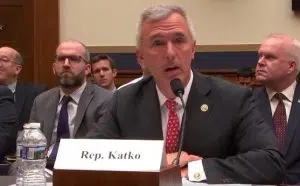 The Manufacturers Association of Central New York and the U.S. Chamber of Commerce have announced their endorsement of Republican Congressman John Katko.
In a joint statement released on Thursday, MACNY and the Chamber said they base their endorsements on a candidate's record on issues critical to economic growth. Nathan Andrews, the chair of MACNY's political action committee, said association members have enjoyed a good working relationship with the two-term Representative.
" John has been instrumental in advocating for lower taxes, improved infrastructure and repeal of many regulatory burdens that impact businesses like ours, and we are fortunate to have him in Washington representing our best interests."
Chamber of Commerce spokesman Stephen McAllister cited Katko's reputation as an independent leader who continues to get things done.
"(F)rom cutting excessive red tape on small businesses, to spearheading legislation to fix our broken roads and bridges, to creating a tax environment for job creators to hire and grow. We're honored to highlight his record and endorse him here today."
Katko received a 93% ranking in the U.S. Chamber's annual How They Voted scorecard during the 115th Congress.