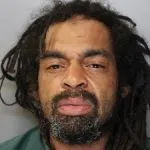 The Onondaga County Sheriff's Office is looking for a Syracuse man after he failed to register with the county's animal abuser registry.
46-year old Brian Person was convicted last October of two counts of torturing and injuring a puppy. He was sentenced to eight months at the Jamesville Correctional Facility and failed to register after his release. Person is the first abuser who has failed to register since a local law passed by the Onondaga County Legislature established the abuser registry in June of 2017.
The law prohibits animal ownership by offenders. The names of convicted offenders will appear on the registry for fifteen years following his or her release from incarceration or from the date of the judgement of conviction. Ten other convicted animal abusers have been named to the registry.