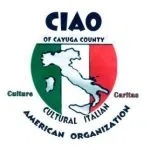 CIAO, the Cultural Italian American Organization, will hold its 5th annual Columbus Day Dinner at the Springside Inn on Sunday, September 30.
Sam Vitale and Paul Sartarello said on Monday's Finger Lakes Morning News this year's honoree is a very special member of the community.
The Sheriff was humbled by the recognition when he dropped by the WAUB Radio Ranch on Wednesday.
The deadline to get your ticket is Sunday.  They are $40 and are available at Tesoro's on Genesee, Silbert Optical, the Flower Shop on Osborne Street or by calling Sam Vitale at 315-406-4312.