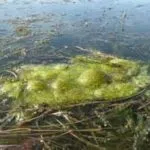 Harmful algal blooms are becoming a more widespread problem on Cayuga Lake.
Speaking on Tuesday's Finger Lakes Morning News, Cayuga County Environmental Health Director Eileen O'Connor said the county health department is monitoring the water at the Wells College treatment plant in Aurora.
She added the weather has helped to limit the formation of HABs on Cayuga, Owasco and Skaneateles Lakes.
Claire Weston, head of the HABs team at the Community Science Institute in Ithaca, predicted on Monday if the test results of water samples from Cayuga Lake last week are confirmed by Department of Environmental Conservation, they would exceed the "high toxin" threshold