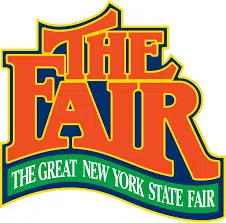 For the 2nd time this year, the Great New York State Fair has set an all-time, single-day attendance record.
Officials say 134,115 people visited the Fairgrounds Saturday, besting the previous record set on the previous Saturday by more than 6,700.
The Fair topped a million total visitors for the year, and remains on pace to smash last year's record of 1.16 million visitors.
---
BIG, BIG, BIG DAY
2018 will go down as the year that the records kept falling.  For the seventh time this year, a single-day attendance record has fallen. For the second time in eight days, the all-time attendance record has fallen. Holy cow. 134,115 people came to the Fair today. That's:
6,721 above the all-time record set last Saturday
12,912 above last year's Saturday attendance
31,580 above the average for the second Saturday since the Fair expanded to 12 days in 1990
The Fair is now 94,240 above last year, which, as you remember, set the all-time record for total attendance. FUN FACTS TO KNOW AND TELL: There have been 947 Fair days since 1906, the earliest date for which we have records. The second Saturday of the Fair is #1 in average attendance, and the only day where attendance averages above 100,000, at 102,535 since 1990. Of 29 Fairs since the Fair went to 12 days in 1990, 18 of those days recorded attendance above 100,000. 'Twasn't always the case, though. In 1906, the Saturday before Labor Day recorded an attendance of 3,398, the low day for the year.
BIG SHOW
It's A Boogie Wit Da Hoodie at 8 pm at Chevy Court. The Brownskin Band + Joe Driscoll play at 2 pm. On the Experience Stage, a pair of great tribute bands play deep into the night. Big Eyed Phish, a Dave Matthews tribute group, perform at 6 pm, followed at 8:30 pm by AC/DC outfit Thunderstruck. The final Drone Light Show is set for 9:30 pm, weather permitting.
BIG LUMBER
Sunday is Timber Sports and Forestry Experience Day, and some great pictures are to be had at this event in the New York Experience festival ground. A draft horse demonstration kicks off the celebration at 10:30 a.m., followed by teams from SUNY College of Environmental Science and Forestry, SUNY Morrisville, SUNY Cobleskill and Paul Smith's College performing crosscut, bowsaw, axe throw, underhand chop, logrolling, speed climbing and more. Fairgoers can enjoy a Lumberjack Hall of Fame Museum and meet professional lumberjacks, courtesy of the New York State Woodsmen's Field Days of Boonville. Professional lumberjack competition champions Dave and Peg Engasser will show off their skills, while Cornell Cooperative Extension will host an educational forestry exhibit. A logging truck and mobile sawmill will also be on display. A day of all things wood.
BIG ARMS
The New York State Arm Wrestling Championships begin at 10 am in the International Building.
BIG TASTE
It's the final day of the two day Food Truck Competition at Chevy Court. A fresh batch of competitors will be on hand. Competitors and their products:
Cue Dogs: Nachos
Toss N Fire: Hot Honey Pizza
Byblos Street Grill: Falafel Bowl
Sweet Melody: Blueberry Greek Yogurt Gelato
Chicken Bandit: Mexican Lime Garlic Chicken Gyro
Ponchito's Taqueria: Mini Chicken Quesadilla
Birdsong Café: Lavender Lemonade
Louisiana Cookery: Shrimp & Grits
Chef's Catering: Chef's Fried Chicken
Rob's Kabobs: Sweet Heat BBQ Chicken Kabob
Limp Lizard Roadshow: Pulled Pork
Pinkies Barbeque: Jerk Pork Taco
Tonzi's Catering Company: Chicken Wing Meatballs
Pascarella's Bakery & Company: Meatball Stuffed Spaghetti
Come Fry With Me: Bacon Poutine
Papa Gallo: Chorizo Flautas w/ Mexican Street Corn
Juicy Freeze:  Strawberry Smoothie
Potato Skin Express: Potato Skin
Global Taco: Upstate NY Taco
Chef 4 Rent: Best Beef Food Truck of NY Angus Pizza Slider
BIG CHALLENGE
You say you've never milked a goat and you've always wanted to? Well, Sunday's your lucky day. You can milk a dairy goat at 2 pm in the Dairy Goat Show Tent. Pictures or it didn't happen.
You can see our daily full schedule at https://nysfair.ny.gov/your-visit/daily-schedules/
PHOTO OF THE DAY:
From our John Haeger. A horse and rider exercise, with the Midway in the background. Lots of great pictures for your free use at our Flickr site, https://www.flickr.com/photos/nysfair/albums.