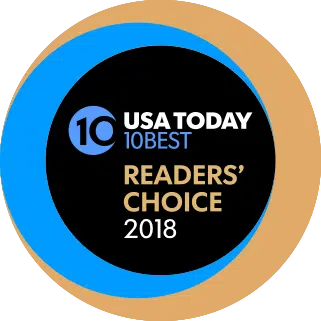 The Finger Lakes has been selected as the "Best Wine Region" in the United States by voters in USA Today's 10 Best Readers' Choice contest.
A panel of experts partnered with 10Best editors to pick the initial 20 nominees, and the top 10 winners were determined by popular vote. The Finger Lakes placed first, while Lodi, California finished 2nd. The national poll focused on many facets of wine travel, and the Finger Lakes had at least one nominee in all of the categories – best winery restaurant, best winery tasting room, best wine country hotel, and best wine festival.
F.L.X. Table in Geneva was named the nation's "Best Winery Restaurant," while Penn Yan's Fox Run Vineyards placed third. Other Top 10 finishers: Veraisons Restaurant at Glenora Wine Cellars (Dundee, Best Winery Restaurant, 8th Place); Herman J. Wiemer Vineyard (Dundee, Best Winery Tour, 7th Place); Fox Run Vineyards (Penn Yan, Best Tasting Room, 7th Place); Dr. Konstantin Frank (Hammondsport, Best Tasting Room, 10th Place); Belhurst Castle (Geneva, Best Wine Country Hotel, 3rd Place), and The Finger Lakes Wines Festival (Best Wine Festival, 5th Place).
In a joint statement, State Senator Tom O'Mara and Assemblyman Phil Palmesano said, "We are thrilled to have this chance to raise a glass to all of the voters who took the time, day after day, to let America know that the beauty and the quality of the Finger Lakes wine region is unmatched. It's a truly satisfying victory that keeps the Finger Lakes region on the national map and helps show our local pride in Finger Lakes wine country as a leading destination for visitors from around the globe, an absolute foundation of our leading tourism industry, and a cornerstone of our local culture and economy."
Earlier this summer, Watkins Glen International was named the winner of a "10Best" contest for America's favorite NASCAR race track, it's third consecutive victory.