Finger Lakes National Forest officials announced Tuesday that due to the heavy rainfall received  August 14th the portion of Backbone Trail, north of the Foster Pond intersection to Wardner Corners Road, has been closed due to a trail bridge being unsafe.
Forest Engineers were on site earlier this week to assess the damage on the Forest, and determined that this trail bridge would be unsafe for all users, as the bridge abutments are undermined.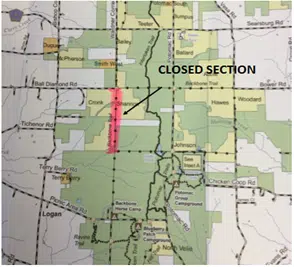 This section of trail will be closed until further notice.
Earlier this month it was announced Forest Service Road H38 and the Fossenvuew Trail both located off of State Route 414 at Caywood Point were closed to vehicle and foot travel.