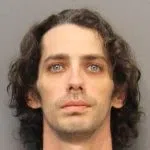 An Auburn man is in the Cayuga County Jail after allegedly trying to strangle his ex-girlfriend earlier this month.
Brian France was arrested on Tuesday on a warrant accusing him of fighting with the woman over money and almost choking her into unconsciousness at her home on Venice Street on August 11.  He is scheduled to appear in court for a preliminary hearing on Friday.
The Citizen reports the woman refused medical treatment.