Governor Andrew Cuomo kicked off the 2018 New York State Fair Wednesday and helped unveil the new 63-MILLION dollar exposition center.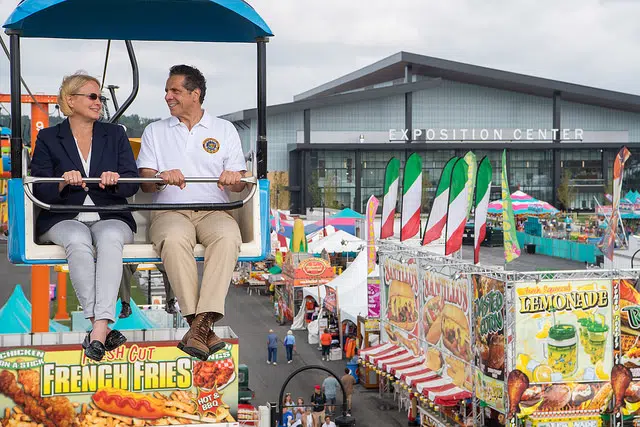 The Expo Center, with 110,000 square feet of clear-span floor space, has the capacity to hold more than 500, 10′-by-10′ trade show booths. The massive venue, which also features 4,000 retractable seats, will attract major shows and special events, including car, boat, and RV shows, pet expos, consumer and trade shows, home and garden shows, tech expos and more—many of which were previously unable to come to upstate New York due to the lack of suitable space. The Expo Center increases the amount of available indoor space on the Fairgrounds to more than 450,000 square feet.
Last year at the opening of the 2017 Fair, Governor Cuomo announced the Request for Proposals for the Expo Center design-build project was being issued by the Office of General Services. As a result of special legislation for design-build granted in the Governor's 2017-2018 Budget, the project was designed, constructed, and completed in less than one year – in time for the 2018 Fair – by a number of New York State firms including design/builder HBP Joint Venture, a joint venture between Hueber-Breuer Construction (Syracuse) and The Pike Company (Rochester); architect and engineer QPK Design (Syracuse); and owner's representatives Gilbane Building Company and C&S Companies (Syracuse).