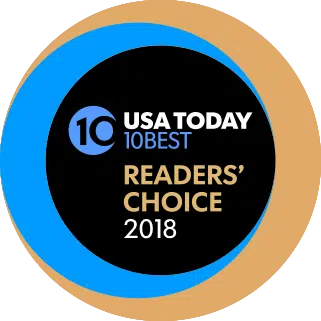 For the third straight year, Watkins Glen International has been chosen as the USA Today 10 Best Readers' Choice "Best NASCAR Track."
The announcement was made Friday following the nearly month-long USA Today voting contest. WGI was among 20 nationwide finalists for the 2018 designation. Track events generate over 200-MILLION dollars in economic activity across the region and account for more than 2-THOUSAND local jobs.
NASCAR's annual visit to the Glen is one of New York's largest sporting events and attracts fans from all 50 states, as well as 16 different countries.
"Obviously, all of the credit goes to the great fans of Watkins Glen International," said WGI President Michael Printup. "They were sharing this contest across all forms of social media, voting from multiple devices, and making sure that The Glen came out on top. We'd also like to thank our elected officials for their constant support, namely Senator Tom O'Mara and Assemblyman Phil Palmesano, who were instrumental in spreading the word about this vote."
State Senator Tom O'Mara (R,C,I-Big Flats) and Assemblyman Phil Palmesano (R,C,I-Corning) released the following statement after today's announcement:
"Thanks to everyone who took a turn behind the wheel and kept voting, day after day, to support Watkins Glen International as the Best NASCAR Track in America. It's a well-deserved national honor for track officials and staff, drivers and, most of all, the fans who help make The Glen one of the renowned venues in all of sports and an absolute anchor of the culture and economy of our Finger Lakes and Southern Tier regions. It was a great ride and a great show of support for one of our own!"