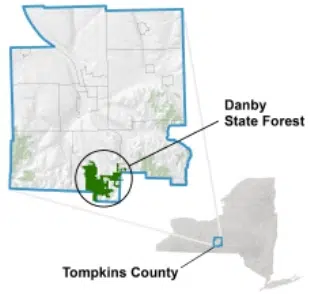 The DEC and Finger Lakes Land Trust Wednesday announced the completion of a 144-acre addition to Danby State Forest, including approximately one mile of the Finger Lakes Trail in the Tompkins County town of Danby.
Acquisition of this parcel permanently protects a segment of the 585-mile Finger Lakes Trail, improving accessibility and safety by eliminating a road walk portion, and will enhance other trail systems and recreation opportunities on Danby State Forest. Protection of the property additionally ensures wildlife habitat continuity, identified as a priority in the Rapid Waters Unit Management Plan and Tompkins County 2007 Countywide Conservation Plan.
Danby State Forest is situated within the Emerald Necklace, a proposed greenbelt linking 50-THOUSAND acres of existing conservation land in an arc around Ithaca, from the Finger Lakes National Forest in the west to the Hammond Hill State Forest in the east.