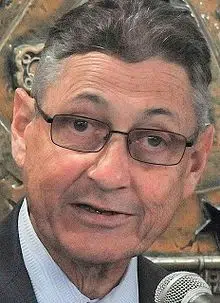 UPDATE 3:15PM: Former Assembly Speaker Sheldon Silver has been sentenced to 7 years in prison.
Here's a statement from Assemblyman Bob Oaks:
"The former New State Assembly Speaker, Sheldon Silver's seven-year sentence for his conviction on federal corruption charges is just one more reminder of the urgent need for stronger New York ethics laws and oversight of lump sum funds in the New York State budget."
---
Former State Assembly Speaker Sheldon Silver is scheduled to be sentenced a second time in a New York City courtroom this afternoon. The 74-year-old was convicted this spring on corruption charges stemming from the illegal collection of nearly $4 million in fees from real estate developers and cancer researchers. Silver's attorneys have been pleading for leniency, but Assembly Minority Leader Brian Kolb says that's too bad:
Silver was originally sentenced to 12 years in prison back in 2015, but that conviction was later thrown out.