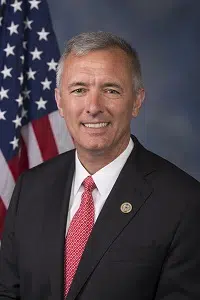 11 House Republicans from the Freedom Caucus are calling for the impeachment of Deputy Attorney General Rod Rosenstein. The group claims that Rosenstein and the Department of Justice has not been responsible enough in supplying lawmakers with documents related to the Russia investigation, as well as a closed investigation into former Secretary of State Hillary Clinton's emails.
Congressman John Katko released this statement Thursday regarding efforts to impeach Rosenstein:
"I strongly object to the action taken by members of the House Freedom Caucus to impeach Deputy Attorney General Rod Rosenstein.  Removal of a high-ranking federal law enforcement official requires an extraordinary level of improper conduct, a high standard which most certainly has not been met.  I remain steadfast in my support for the Mueller investigation and believe it must continue to run its course without impediment.  
"This is a clear exercise in obstruction by members seeking to advance divisive and unproductive rhetoric.  It distracts from the efforts of other members, from both sides of the aisle, devoted to working to advance constructive reforms through Congress.  My constituents send me to Washington to fight for local priorities, and despite these disruptive efforts today, I remain committed to doing just that."
Speaker Paul Ryan also came out Thursday against the call to impeach Rosenstein.