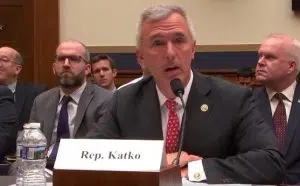 Following news this week that at least 50 people in Syracuse have overdosed on synthetic drugs, Congressman John Katko has called on the U.S. Senate to quickly pass his bipartisan legislation that addresses the synthetic drug crisis.
Synthetic drugs are designed to mimic street drugs like marijuana, LSD, cocaine, ecstasy and other hard drugs. They can be more potent than the real thing and often times are more deadly. Currently, when law enforcement encounters and begins to combat a specific synthetic drug compound, manufacturers of these substances are able to quickly and slightly alter the chemical structure of the drug. This puts law enforcement at a serious disadvantage, and they are constantly left one-step behind.
Katko's legislation will help to stop the unlawful importation and distribution of synthetic drugs by giving law enforcement the effective tools they need to crack down on these substances.