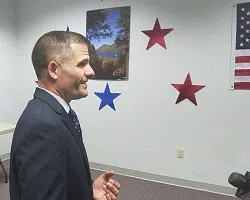 Republican gubernatorial candidate Mark Molinaro was in Syracuse on Thursday to attend the Onondaga County GOP clambake.
The Dutchess County Executive met with reporters and said his campaign is about affordability and accountability.
He talked about being involved in politics since he was elected to the Village of Tivoli Board of Trustees at the age of 18, a feat Governor Cuomo can not claim.
He added he's discovering that there is a distaste on both sides of the political aisle for crony capitalism and public servants who think serving in office is all about them.
Molinaro said if he is elected in November, on day one he will put an end to the pay to play mentality that he claims has made New York government the most corrupt in the nation.