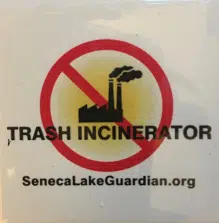 New York lawmakers have wrapped up their 2018 session with most of the year's biggest issues left unresolved. Several high-profile measures never got a vote in both chambers, including measures to authorize sports betting, extend the statute of limitations on child molestation, eliminate cash bail in most criminal cases and address the state's chronic corruption problem.
Assembly Democrats are being blamed for not moving forward on a law that would benefit the region.
Despite an intense local lobbying effort, a bill to help block plans for a massive garbage incinerator planned for the Finger Lakes never made it to a vote in the Assembly.
The group Seneca Lake Guardian is blaming Assembly Majority Leader, Joe Morelle of Rochester for holding up the bill. According to Seneca Lake Guardian, Morelle has in the past accepted campaign contributions from the incinerator developers Circular enerG, an "entrepreneurial" startup company based in Rochester. Morelle is running next week in a Democratic primary to fill the congressional seat left vacant by the death of Louise Slaughter.
The legislation called "The Finger Lakes Community Protection Act" sponsored by State Senator Pam Helming passed the senate on Monday.
Tuesday Email from Seneca Lake Guardian President Joseph Campbell-
While the Senate Bill passed unanimously 2 days ago, the Assembly version is stalled in the Rules Committee with time running out to get it passed. With wide, bipartisan support, the bill is likely to pass. The legislative session ends today before sunset.
Assembly Majority Leader Joe Morelle is in a position to move the Incinerator Bill, A11214, to the floor for a vote. In emails to constituents, Morelle says that he would vote for the bill IF it came to the floor. This is unacceptable. The article linked below is a startling revelation of campaign contributions from the principal behind Circular enerG, David Flaum, and he and his wife's contributions to Morelle's campaign. Quote from the article by Peter Mantius:
"But the $5,000 the Flaum's contributed to Morelle on Mar. 17, 2017 placed them in the top tier of his campaign supporters.
Those Flaum checks stood out as unusual because Flaum's $570,000 in campaign contributions since 2000 have gone almost exclusively to Republicans. Morelle is a Democrat.
Next Tuesday, Morelle faces a Democratic primary against three others. He has been raising funds aggressively. On Apr. 30, Ilene Flaum kicked in $2,700, the maximum allowed for the period by an individual, Federal Election Commission records show."
https://waterfrontonline.blog/2018/06/20/do-or-die-today-for-romulus-incinerator-bill-wheres-joe-morelle/
Joseph M Campbell, DC
President-Gas Free Seneca
Seneca Lake Guardian, A Waterkeeper Affiliate
A Statement from Senator Pamela A. Helming-
Re: Proposed Incinerator Legislation
Today, the Assembly Majority put politics before people. Their failure to take up the "Finger Lakes Community Protection Act" is shameful. The downstate led Assembly Majority blocked our legislation to stop the incinerator in Seneca County.
We brought together both Assembly and Senate members, statewide business organizations, and environmental advocacy groups, who are typically on opposite sides of the table to draft this legislation. Assemblyman Cusick was a strong partner throughout this effort.  Republicans and Democrats in the Senate came together to pass my legislation unanimously on Monday. This legislation would have been a victory for local residents and business owners who are fearful of the impact this project could have on public health, the environment, and the value of their homes. Most importantly, this would have been a win for the children of Romulus who could be forced to go to school next to a smokestack releasing who knows what.
The message the Assembly Majority sent was clear – upstate doesn't matter. They don't care about our health, tourism, or the safety of local children. This is not a Republican or a Democrat issue; rather, this is a matter of protecting the quality of life for local citizens and visitors alike and preserving our beautiful lakes, farmland, and natural scenery. However, our fight is not over. The Assembly needs to return next week and get this passed for the sake of our children and the future of the Finger Lakes.