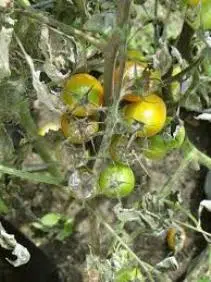 State Agriculture Commissioner Richard Ball is urging New York 's home gardeners, greenhouse growers, and vegetable farmers to look for and report any suspicions of late blight in their tomato and potato plants and crops this summer.
Late blight is a plant disease that has the potential to cause devastation to these crops, infecting and destroying the leaves, stems, fruits, and tubers of potato and tomato plants. Late blight was detected in several tomato plants in Onondaga County as a result of an inspection conducted by the Department's Division of Plant Industry and confirmed this week by Cornell University's Plant Disease Diagnostic Clinic. The plants were destroyed and inspectors will continue to monitor field plantings of tomatoes.
The late blight strain detected was not one of the known or common strains.