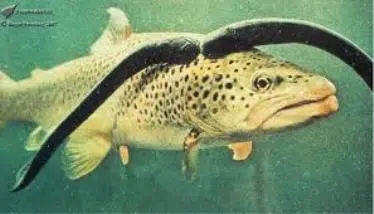 A program to combat the parasitic sea lamprey is scheduled to begin Monday on Seneca Lake tributaries in Yates, Schuyler and Chemung Counties.
The DEC states by effectively controlling sea lampreys, the agency can reduce mortality rates for fish targeted by sea lamprey, especially lake trout, rainbow trout, brown trout, and landlocked salmon. In addition, fewer sea lampreys mean fewer unsightly scars and wounds on sportfish. Typically, immature sea lamprey live in streams for three to four years before they become parasitic, descending into the lake to prey on other fish, like trout and salmon.
Through the sea lamprey control program, DEC will apply a lampricide, called TFM to the streams in a continuous, metered manner over a period of approximately 12 hours to kill the immature, larval form of the sea lamprey. The stream treatments do not pose any significant hazard to human health. However, as a precautionary measure, the NYS Department of Health (NYSDOH) has advised no stream water consumption, fishing, swimming, livestock watering or irrigation in the treatment zone during and immediately following applications. Appropriate signs will be posted along the treated streams.
Since 1982, Catharine Creek and Keuka Outlet have been treated ten and six times, respectively, without any significant environmental or human health problems or impacts.