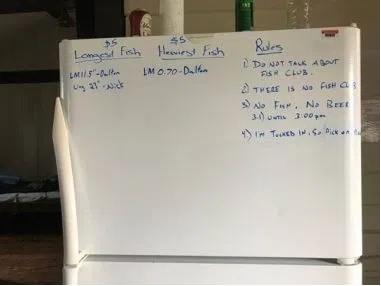 On April 24th, ECO Mark Colesante was on patrol in Fair Haven State Park when he came across a pair of fishermen behind one of the State Park cabins.
The two fishermen were properly licensed, and had no fish. However, ECO Colesante noticed two buckets behind the cabin that contained several crappies, three of which were clearly under the legal size of nine inches. The two fishermen said the fish belonged to men staying at the camp and gave the officer the names of two men. ECO Colesante asked if there were any other fish inside the cabin and the pair agreed to let him look inside. When the officer entered the cabin, he found the rules of "Fish Club" prominently displayed on the refrigerator. The first rule of Fish Club is "Do not talk about Fish Club."
ECO Colesante left his business card and asked for a call when the other members returned to the cabin. Having no luck finding the missing fishermen in the park, ECO Colesante returned later in the day and found all the club members back at the camp. One of the other Fish Club members admitted to catching the three short crappies and was issued a ticket for possessing the undersized fish, returnable to the Town of Sterling Court.