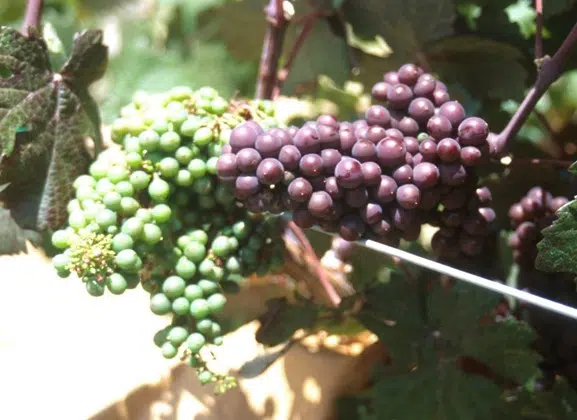 Senate Minority Leader Charles Schumer is urging the USDA's Agriculture Research Service to provide a robust investment in new equipment for the Grape Genetics Research Unit in Geneva.
Schumer said upgrades to the technology are necessary to ensure researchers have the state-of-the-art tools needed to respond to the research needs of a rapidly-changing grape and wine industry. Specifically, Schumer said researchers at the laboratory need new sensing equipment and increased computing capacity so they are better equipped to help growers with the development of new, innovative strategies to transform the grape and wine industries and spur production across New York.
A copy of Senator Schumer's letter to the USDA appears below.
 Dear Dr. Jacobs-Young:
 I am writing to encourage the Agriculture Research Service to provide a robust investment in modern sensing equipment and increased computing capacity at the Grape Genetics Research Unit (GGRU) in Geneva, NY. Upgrades to the GGRU's technology are necessary to ensure that these very productive scientists have sufficient resources to respond to the research needs of a rapidly-changing grape and wine industry.
 The GGRU, co-located on the Cornell AgriTech campus at the New York State Agriculture Experiment Station, is one of the ARS's most productive, collaborative, and innovative research programs. The collaboration between federal scientists and Cornell faculty, researchers, and extension associates has helped spur exponential growth in the grape and wine industry in New York state and across the country. With more than 1,630 family vineyards, 400 wineries, and almost 40,000 acres of cropland, the New York grape crop alone is valued at over $52 million and generates $4.8 billion in economic benefits annually for New York state.
 Work at the GGRU has improved grape quality, variety, productivity, weather tolerance, and disease resistance, all to the benefit of grape growers, wine makers, and the industry. Indeed, ARS recognized the significance of the work at Geneva when it designed and approved plans for a state-of-the-art replacement facility in 2003-04. Nearly $15 million – about half the total needed for construction – was appropriated before Congress rescinded these funds in 2011. The grape genetics laboratory at Geneva currently sits midway down the long list of facilities slated for replacement pursuant to the ARS Capital Investment Strategy.
 While ARS works its way through the backlog of construction, Cornell University recently moved the GGRU into a newly renovated lab at the Cornell AgriTech campus in Geneva. The relocation is not intended to take the place of a new lab, but will help to ensure that ARS scientists remain fully integrated into the grape research occurring at Cornell and to address some of their infrastructure needs. While this Cornell-renovated space is a vast improvement over the old facility, the laboratory still needs upgraded equipment to keep pace with the digital revolution in plant breeding and crop management.
 To address these needs, I urge you to invest in mobile and static digital data sensors and robotic tools on field-mounted vineyard equipment for the GGRU. This equipment would enable scientists to collect real time data on crop canopy, insect and disease pressure, and water and nutrient stress. Digital sensors, working in combination with new varieties and pest- and disease-management systems developed at Geneva, would allow scientists to provide growers with integrated digital management systems to create economic and environmental efficiencies. At the same time, ARS must also invest in increased computational capacity for the GGRU. This is necessary to fully utilize the data generated from the digital sensing systems and allow for the development of models that can be deployed by commercial vineyard growers in New York and beyond.
 I look forward to working with you on this important project. 
 Charles E. Schumer
U.S. Senator