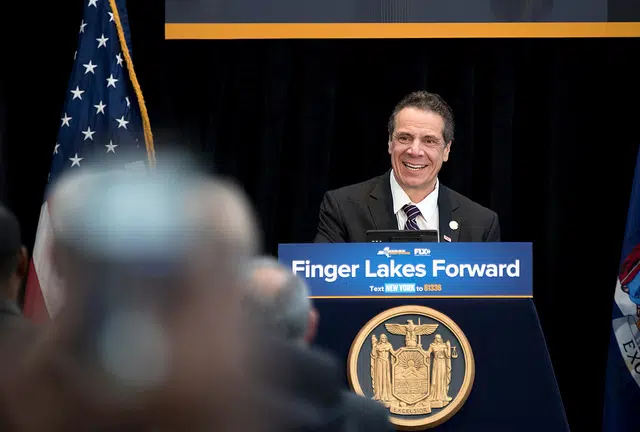 An executive order that will officially allow paroled felons to vote in New York State will soon be signed by Governor Andrew Cuomo.
Cuomo made the announcement Wednesday during a speech in Manhattan. Currently, those convicted of a felony and sentenced to prison are not able to vote until completing their sentence and parole.
Senator Pam Helming serves as Vice Chairwoman of the Senate's Committee on Crime, Crime Victims, and Corrections.  She released this statement:
"This is nothing more than a political ploy by the Governor to empower a new voting bloc in a re-election year. The fact is convicted felons, including murderers and rapists, knowingly forfeit their right to vote when they choose to disregard the law and commit these heinous crimes. These individuals need to know that there are real consequences for their criminal actions, including serving out their entire sentence whether behind bars or on parole. Sadly, victims of crime, whose lives have been taken, will never again have the chance to exercise their constitutional right to cast a vote. I understand the goal of reintegrating prisoners back into society, but this appears to be another misguided abuse of executive power. New York State should instead be focusing its energy on supporting victims of crime and their families."
New York Republican Party Chairman Ed Cox:  " First Governor Cuomo lets cop-killer Herman Bell go free on parole, now he's adding insult to injury with an outrageous power grab that gives paroled felons the right to vote. Cuomo's actions are purely political, designed to appeal to radical primary voters and satisfy his presidential ambitions. Meanwhile, New Yorkers continue to suffer under his rampant corruption, highest taxes and worst economic outlook in the nation. His liberal lunacy is destroying our state."
Cuomo's Democratic challenger in this fall's primary for Governor, Cynthia Nixon, released this statement: "For eight years, Cuomo governed like a Republican — handing control of our state to his ultra-rich donors and the party of Trump. Now he's scared of communities all across New York who want to replace him with a real Democrat. We don't buy the Governor's new song-and-dance routine. Voter suppression in New York should have ended eight years ago, from the rights of parolees to access to early voting and automatic registration."
Here is a copy of the Executive Order:
WHEREAS, the right to vote is a fundamental tenet of our democracy and the underpinning of a representative government;
WHEREAS, the Fifteenth Amendment to the United States Constitution prohibits the federal and state governments from denying a citizen the right to vote based on race, color, or previous condition of servitude;
WHEREAS, under the Election Law of the State of New York, no person who has been convicted of a felony, may register for or vote at any election unless they have been pardoned or restored to the rights of citizenship by the governor, or their maximum sentence of imprisonment has expired, or they have been discharged from parole;
WHEREAS, tens of thousands of New Yorkers who are living in the community while on parole are disenfranchised as a result of a prior conviction and their status on parole;
WHEREAS, these individuals are active participants in society at large who, despite the limitations placed on them by parole conditions, work, pay taxes, and support their families and should be permitted to express their opinions about the choices facing their communities through their votes;
WHEREAS, the disenfranchisement of individuals on parole has a significant disproportionate racial impact thereby reducing the representation of minority populations;
WHEREAS, research indicates a strong positive correlation between the civic engagement associated with voting and reduced rates of recidivism, which improves public safety for all New Yorkers;
WHEREAS, restoration of the right to vote is an important aspect of the reintegration of individuals under parole supervision back into society to become law-abiding and productive citizens;
WHEREAS, New Yorkers who are sentenced to a term of probation are allowed to vote in any election, while New Yorkers on parole are not, even though both individuals on probation and parole are serving sentences in the community and operating under similar restrictions;
WHEREAS, Article IV, Section 4 of the Constitution of the State of New York authorizes the Governor of New York through his pardon power to restore the rights of citizenship that were forfeited by reason of conviction and a sentence of incarceration;
NOW, THEREFORE, I, ANDREW M. CUOMO, Governor of the State of New York, by the power vested in me by the laws and the Constitution of the State of New York, do hereby order and direct as follows:
I.         From this date forward, individuals being released from incarceration onto parole supervision and individuals who are currently under parole supervision will be given consideration for a conditional pardon that will restore voting rights without undue delay.  Effective immediately, the Commissioner of the Department of Corrections and Community Supervision shall submit a record of individuals who are currently under parole supervision to the Governor's Office.  Beginning May 1, 2018, the Commissioner shall submit a monthly record of individuals who have been released from prison onto parole supervision in the prior month.  Each individual on the eligible list will be reviewed to determine whether he or she will be granted a pardon that will restore voting rights.
II.         Notwithstanding this executive order, offenders may still apply for a Certificate of Relief from Disabilities for a restoration of citizenship rights pursuant to New York Correction Law Article 23.  All applications, unless withdrawn, will be processed according to the procedures set forth in New York Correction Law.
III.         The pardons following this executive order, and all future restorations of voting rights, shall not include rights with respect to the receipt, transportation, or possession of firearms as provided by New York State Penal Law Section 400, nor shall it relieve an individual of any unpaid restitution, fine, or other financial obligation resulting from a conviction, nor shall it restore the right to hold public office, nor shall the order cause the underlying conviction to be sealed.
IV.         This executive order, and all future restorations of voting rights, shall not be construed as a remission of guilt or forgiveness of the offense and shall not function as a bar to greater penalties for future offenses.  Nothing in the executive order shall be construed to contravene any applicable state or federal law.
G I V E N   under my hand and the Privy Seal of the State in the City of Albany this eighteenth day of April in the year two thousand eighteen.
BY THE GOVERNOR