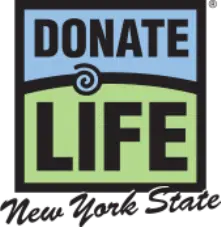 Over five MILLION New Yorkers have enrolled in the New York State Donate Life Registry as organ donors.
In honor of National Donate Life Month and New York's Donate Life Blue and Green Day, several landmarks across the state will be lit blue and green tonight, including One World Trade Center, the SUNY Administration Building in Albany, the State Fairgrounds Entrance in Syracuse, the Peace Bridge and Niagara Falls. To increase enrollment in the New York State Donate Life Registry, the Department of Health worked with the Donate Life New York State to launch a more modernized and expanded registry. Enhancements include a more accessible and user-friendly website and the ability to access the registry from multiple state websites, to help streamline the registration process.
The updated registry application better connects users and offers social media sharing options as well.