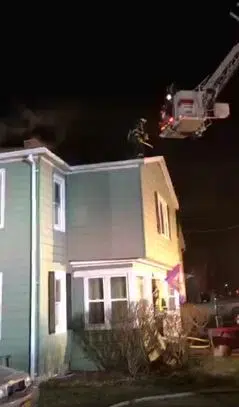 Loose batteries being stored in a plastic box that made a connection with metal materials also being stored in the box has been determined to be the cause of a Saturday night house fire at 30 Hogarth Avenue in Geneva.
All 3 companies of the Geneva Fire Department found a house filled with smoke and flames showing through the roof vents when they arrived around 10:30. The fire was located in a rear bedroom closet, which extended into an attic space. The closet, part of a bedroom and bathroom sustained fire damage, as well as part of the attic. The hallway and other rooms sustained minor heat and smoke damage. Quick action by firefighters resulted in the fire being under control in about 25 minutes.
No injuries were reported. The Red Cross is assisting residents of the home.