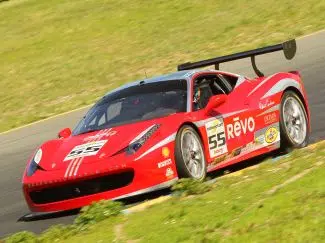 Watkins Glen International announced the addition of the Ferrari Challenge North America to its already packed 2018 schedule Thursday afternoon, bringing world-class drivers and spec versions of the Ferrari 488 Challenge and the 458 Challenge EVO take to The Glen for the first time since 2014.
The one-make race weekend is scheduled for July 27-29, 2018.
The series was established in 1993 and the events are FIA-approved, thus ensuring very high safety standards and excellent organization. The formula for the series, which insists on participants being dealers or authorized race shops, ensures that cars are very closely matched, thus putting the focus on the drivers.
"When you mention Ferraris racing at Watkins Glen, it turns heads," WGI President Michael Printup said. "To have the Ferrari Challenge joining our already loaded schedule in 2018 is fantastic. It's a great addition for our fans, who are going to be treated to the one of the most diverse schedules in the entire sport. We can't wait."
There are three series that make up Ferrari Challenge: Europe, which is the oldest, North America, and Asia-Pacific. There are also three categories for each race: Trofeo Pirelli, Trofeo Pirelli Am, and Coppa Shell, which includes further classes like the Gentlemen Cup, for drivers over 55.
Tickets and camping for this thrilling weekend of competition and class, with Sunday-only passes starting at just $35 with advance pricing, are available by calling 1-866-461-RACE or by visiting www.theglen.com.  
Watkins Glen International is the premier road racing facility in North America, twice voted "Best NASCAR Track" by readers of USA Today Keep up with The Glen on Facebook and Twitter. Tickets for Watkins Glen International's 2018 season are on sale now and available at www.theglen.com, or by calling 1-866-461-RACE.