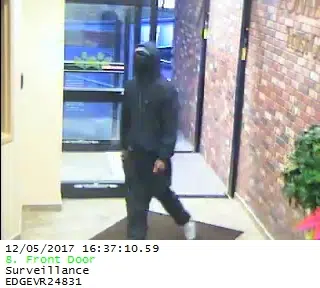 Ithaca Police have released photos of Tuesday's suspect in a bank robbery at the Tompkins County Trust Company on South Meadow Street.
The photos are stills taken from the bank's surveillance video, which caught the black male as he entered the bank with a handgun held down to his side. He approached a teller demanding money be put into a white plastic bag he was holding. The man then fled on foot with an undisclosed amount of cash and was last seen running behind businesses located on Elmira Road.
The suspect was dressed in a dark blue or black hooded sweatshirt, dark blue jeans, white sneakers and had a mask covering his face. He also has a thin build, and is approximately 5'10". Further video evidence revealed the suspect was seen standing near the bank for several minutes before committing the robbery.