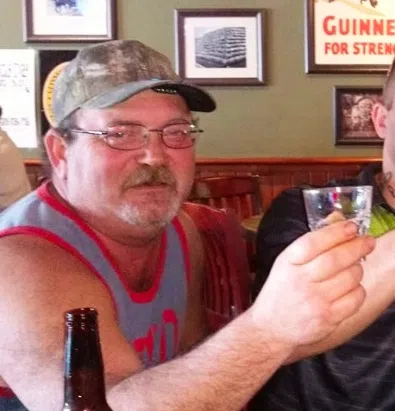 Dundee: Ronnie L. Ayers, age 46, of Dundee, NY died Monday November 20, 2017 at Robert-Packer Hospital, in Sayre, PA. after a courageous battle with cancer.
There are no prior calling hours. Friends are invited to a celebration of his life memorial services 3:00 pm Wednesday (Nov. 29) at the Baird Funeral Home, 36 Water Street, Dundee with Lay Pastor Lew Ann Giles officiating.
In lieu of flowers memorial contributions would be graciously accepted by the family to help with expenses.
Ronnie was born July 19, 1971 in Penn Yan, NY, the son of Harry E. and the late Nancy Bell Ayers. On July 19, 1994 at a favorite scenic overlook in Dadeville, Alabama he married the former Rhonda E. Congdon. He has lived locally since 1996, previously of Pennsicola, FL, and Dadeville, AL. A former boat detailer, and assistant mechanic having helped his father when he could before becoming disabled. Ronnie was a member of the Son's of the American Legion in Dundee, and numerous adult sport leagues, including Darts, Bowling, Horseshoes, and Pool. But his true passion was as an avid sportsman hunting and fishing. He love on weekends turned to Dirt Track Racing, helping his brothers, and of course NASCAR, being a Die Hard Earnhardt fan both #3 & #88.
He is loved and will be forever missed by his devoted wife of 23 years Rhonda E. Ayers at home; 3 daughters Megan (Jamie) Norris of Mississippi, Ashley Ayers of Alabama, Elizabeth C.L. Ayers at home; his father Harry E. (Rhonda Taunton) Ayers of Lakemont, NY, 3 brothers Jack (Shelly) Ayers of Dundee, Chris (Joy) Ayers of AL, Chad (Lisa) Ayers of Lakemont; 2 sisters Nanci (Robert) Clark of Dundee, Amber (Donnie Lawrence) Congdon of AL; 4 grandsons; and numerous nieces, nephews, aunts, uncles, cousins, in-laws, and a few outlaws; along with countless friends.
He was predeceased by his mother Nancy Ayers on May 2, 2011, and a very dear aunt Jackie Burd on July 25, 1994.
Online condolences can be sent by visiting www.bairdfuneralhomedundee.com.