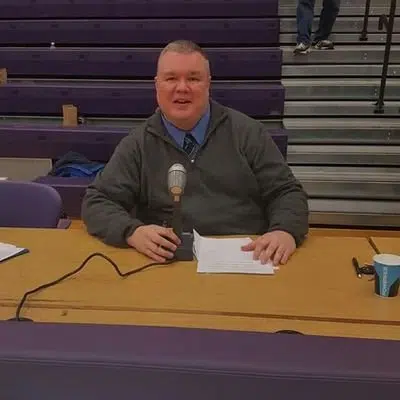 Just some random thoughts from your trusty WFLR newsman:
Hope you can tune in this weekend for some great high school football games on WFLR! Tonight, the Dundee Scots play under the lights at HOME against Mynderse. Coverage begins just before 7. Scotsmen Field is not equipped with permanent lights, but thanks to another generous donation by Tim Gibson from Sunrise Insulation, the Scots fall sports teams have been able at home with mobile outdoor lights all week. A wonderful gesture that I am sure the kids all appreciate.
Saturday, a big Finger Lakes East football matchup will feature the 5-0 Penn Yan Mustangs against the 4-1 Geneva Panthers. Penn Yan sits alone in first place in the league with two regular season games remaining. It will be a tough game against the always talented Panthers . Should be a fun, athletic, hard-hitting game and Chuck Smith and myself can't wait to bring it to you Saturday at 5.
There is so much going on this weekend in the Finger Lakes, but if you are in the area, make sure you check out the Cohocoton Fall Foliage Festival. As a kid growing up in Prattsburgh, classmates and I would also make the trip over the hill this weekend to park cars and help direct traffic for the parade. It was always a fun time and man, the people! You just can't believe so many people converge on a small town like they do for this festival. It is very similar to the Naples Grape Festival when it comes to attendance. Make sure you check out all the different vendors, entertainment, and food (especially the Cohocton Sports Complex french fries) if you visit this weekend.
How about this stretch of weather we have been having in the Finger Lakes? I'm not going to complain with having to broadcast a football game tomorrow when it is in the lower 80's! It can stay like this until January and then warm up!
Here's hoping the Yankees can win game 2 of the ALDS tonight against the Cleveland Indians and get back to the Stadium Sunday with the series tied at 1. The Yankees had the best regular season home record. It sure has been a fun season, no matter what happens over the next 5 days.
Very happy for the village of Burdett to receive the loan and grant to construct a new fire station and village offices. Both are an incredible asset to the community and they deserve to have the best of the best. Congratulations to everyone involved!
Looks like the Dundee Village Water project is moving along quite well. Crews have been working hard for the last two weeks and the weather has certainly helped their cause. How nice will it be for the pipes to NOT burst when it gets cold this winter?!??
Well, that is it for this week. We are all still reeling from the events of Las Vegas and still wondering how one human being can do such harm. I know everyone wants to blame guns and I can understand some points of view. However, I think you have to really focus on the mental health of a person and try to identify what warning signs they exhibited before you can point the blame squarely on guns. Making drugs illegal has certainly not eliminated the problems they cause and I doubt doing the same to guns will not result in the same.
It's just important for us to remember that our time here is short and precious. Tell the one's closest to you that you love and appreciate them. I hope you all have a great weekend and thanks for reading.
(Lucas Day is the WFLR News and Sports Director and can be heard daily starting at 6 a.m.  When he's not rooting for the Yankees or Lakers, he's watching the WWE Network. Questions or comments for Lucas can be left below or emailed to: lday@flradiogroup.com)