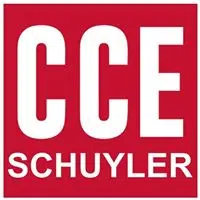 Cornell Cooperative Extension Schuyler County (CCESC) Celebrates 100  years of service to Schuyler County this week at a special event being held Friday, September 29th at 6pm  at Logan Ridge Estates. Cornell Cooperative Extension statewide Director Chris Watkins will be in attendance to help celebrate as will Senator Tom O'Mara and Assemblyman Phil Palmisano.  Elected Officials are expected to present proclamations honoring the 100 years of service to the region's agricultural, family and youth interests in Schuyler County.  Also in attendance will be New York State Ag and Markets Commission Richard Ball and representatives from Representative Tom Reed's Office and the Schuyler County Farm Bureau.  The dinner event is sold out.
For 100 years CCESC has served the citizens of Schuyler County with far-reaching and substantial programs focused on agricultural research and educational programs, 4-H youth development, nutritional educational programs, promoting "buying local", horticultural and forest services, parent education and youth activities such as robotics and shooting sports and summer camp experiences at Hidden Valley 4-H camp.
"We are excited to be able to celebrate this anniversary" said Paul Bursic, current President of the CCESC Board of Directors.  "Cooperative Extension has been an important part of this community for 100 years, and we're delighted with the showing of support for our efforts".
The Centennial event is being catered by Jeremy Personius, chef at Red Newt Winery who will be preparing the meal using locally sourced ingredients and using many ingredients donated from local farms.  Later in the evening, entertainment will be provided by the Blind Spots, a popular Rock and Roll band from Ithaca.  Admission at the door to hear the Blind Spots beginning at 9 PM is still available