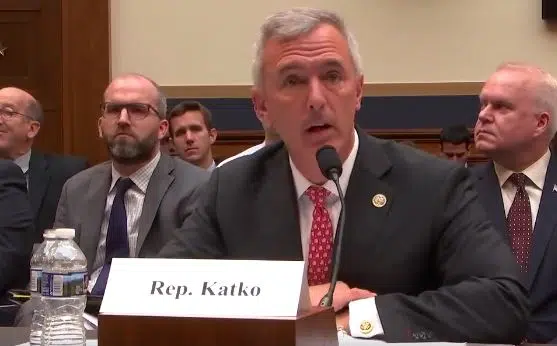 – U.S. Rep. John Katko (NY-24) today released the following statement concerning the confirmation of toxic algal blooms in Skaneateles Lake:
"While the City of Syracuse has assured residents its drinking water systems remain safe, the severe threat of Harmful Algal Blooms (HABs) must not be taken lightly.  With HABs affecting our community in Owasco Lake, and now Skaneateles, it is clear that threats to our drinking water must be continually monitored and confronted.  Elected officials at all levels of government must remain vitally conscious as we address this issue.
"In Congress, I've prioritized strengthening water infrastructure and advocated for robust funding to both protect and update our water systems and to conduct much-needed research into why HABs occur and to more clearly identify the threats they pose to human health and the economy.  I will continue to pursue every opportunity to address this issue on the federal level and to ensure that families and businesses across Central New York have access to safe, clean water."
Rep. Katko has focused intensively on combating the scourge of HABs and strengthening water infrastructure:
Earlier this month, the U.S. House of Representatives unanimously approved an amendment introduced by Rep. Katko to restore $250 million to the Clean Water State Revolving Fund (SRF). The SRF is the primary federal program that provides financial assistance for states and local communities nationwide to make high priority water investments.  The majority of public water systems and municipalities across Onondaga, Cayuga, Wayne, and Oswego Counties depend on these funds to maintain and repair local water infrastructure.  Clean Water State Revolving funds can be used for a wide range of water infrastructure projects, including nonpoint source pollution management programs, storm water drainage improvements, and watershed projects, all of which can assist in reducing and preventing HABs.
With Rep. Katko's support, the House acted to require the federal government to lay out a plan to better deal with algal blooms, and Rep. Katko led an effort requesting that Congress fully fund the USGS Toxic Substances Hydrology Account to research these outbreaks and find ways of mitigating them.
In January 2017, Rep. Katko joined a bipartisan group of his colleagues in urging then President-elect Donald Trump to include robust funding in his budget to combat harmful algal blooms and to conduct research into why blooms occur.
Rep. Katko has called for the permanent reauthorization of the Great Lakes Restoration Initiative (GRLI), which assists with major cleanups, invasive species control, habitat restoration for native species, and pollution research and prevention in communities nationwide and the 24th Congressional District.
Cosponsored H.R. 2853, the Agriculture Environmental Stewardship Act of 2017, legislation to make technology more readily available and affordable so that farmers may prevent nutrient output and runoff.
Co-led an effort in the House to increase funding for the U.S. Department of Agriculture Water and Sewer Loan & Grant Program, which provides loans with reasonable terms, as well as grants, to small and rural communities to develop wastewater and drinking water infrastructure.  Rep. Katko also advocated for increased funding for the Circuit Riders Program, which provides technical assistance to small communities to help with compliance with water regulations, and water facility operations.
Congressman John Katko represents the 24th Congressional District, which includes all of Onondaga, Cayuga, and Wayne Counties and the western portion of Oswego County.  For more information, please visit https://katko.house.gov or www.facebook.com/RepJohnKatko.