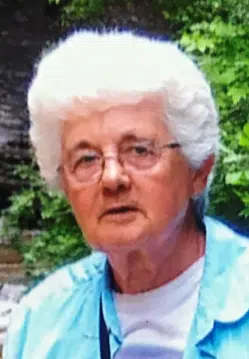 Himrod: Viola Jean Anderson, age 78, of 31 Seneca Drums, Himrod, NY passed away peacefully Thursday March 2, 2017 in the comfort of her home, after a short bout with cancer.
Per her wishes, a memorial service will be held at the convenience of the family. Interment, will be in Bath National Cemetery.
Viola was born July 5, 1938 in Hornby, NY, the daughter of Howard and Mary Fraboni Cody
Jean was a pillar in her community of friends on Seneca Lake. She enjoyed walking, golf, and beautiful sunsets. Always thinking of others! Making many handmade goodies for all.
She is survived by her husband, Ronald R. Anderson; sons, Howard E. and Ronald L., grandson, Alexander Dignon and his father, Neil Dignon, brothers, Lon Bennett and Marvin Cody and sister, Eleine Sapp.
She was pre-deceased by her parents, daughter, Tammi Dignon and brother, Bob Bennett.
Her family would like to thank friends and family for all of their support in our time of need.
Arrangements have been entrusted to the Baird Funeral Home 36 Water St. Dundee, NY. Online condolences can be sent by visiting www.bairdfuneralhomedundee.com.