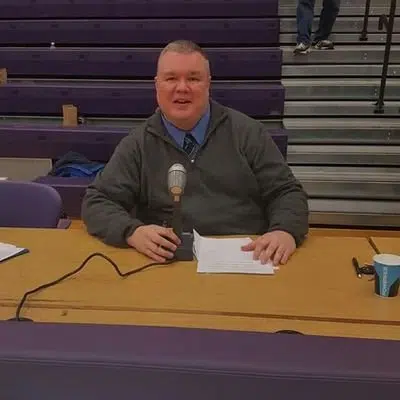 Welcome to my very first blog on the NEW Finger Lakes Daily News dot com!  We hope you are enjoying the site and the hard work that has gone into making it.
We are very lucky at WFLR to have a pet cat named Wiffler!  Not only is he a great "mascot" for the station, but he is a great conversation piece on-air and especially for someone that is visiting us for the first time and might be nervous about getting behind the mic.
It's hard to believe, but Wiffler came to us on 9/9/09, the unluckiest day of that year according to those that believe in that type of thing.  I had just finished with our "Open Mic" program when my two guests went out the front door and continued their conversation on the station's sidewalk on a sunny Tuesday in the village of Dundee.  A few minutes went by when the front door re-opened and one of the gentlemen came back in to tell us we had a "visitor" under our front porch and he was meowing like crazy.  So, Mike Smith and I went out and low and behold, here was an approximately 3-to-4 week old kitten crying out for attention and some milk.  We tried our hardest to get Wiffler to come out, but he was scared of what was happening around him and especially all the traffic buzzing by on Main Street. We tried, and tried and tried.  John Wiedemer even took a break from a hard day's work (ok, even I had to laugh at that when I wrote it haha) and went down to Giles Shurfine to buy some milk and kitty food.  We put a plate and saucer of milk under the steps, but still no Wiffler.
The next day, after we arrived at 5:30 a.m., Mike went out the front door to check and see if the kitten was still there.  He wasn't gone 15 seconds before he came back with a grey and white tiger kitty attached to his shoulder.  From that point on, Wiffler has been "in charge" of us at WFLR!
It's been an amazing experience to have a pet at work.  He is a good stress reducer, conversation starter and is member of the community. You wouldn't believe the number of people that come in to just see Wiffler!!  He has helped raised money for the Yates and Schuyler County animal shelters and has even benefited from the community's kindness when he went through his own sickness a few summers ago and listeners raised money to help pay his vet bills.
It's hard to imagine not having him there every morning to greet Mike at the door, (or in his office), and join me in the newsroom.  He usually lays next to my keyboard for a good hour and listens to the news.  We joke he is the most informed cat in the Finger Lakes!  His laid back personality even allows him to lick John's hand when he trims his front claws.
He's been a true blessing for us and is a huge part of our family.   Sometimes I feel our listeners might get tired of hearing about "Wiffy" but that isn't the case when I am out and about in the Finger Lakes.  We hear they always enjoy hearing about his shenanigans…Trust me, there's plenty of those.  From stepping on buttons on the keyboard, to occasionally lying on a button in the control room, he is "large and in charge."
And we wouldn't want it any other way…..
Do you have pets at your workplace?  If you do, leave me a picture of him/her/they in the comment section below for everyone to see!
Thanks for reading…..
(Lucas Day is the WFLR News and Sports Director and can be heard daily starting at 6 a.m.  When he's not rooting for the Yankees or Lakers, he's watching the WWE Network. Questions or comments for Lucas can be left below or emailed to: lday@flradiogroup.com)