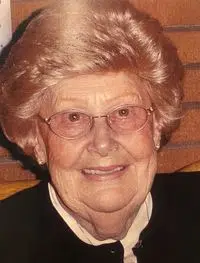 Helen D. Wilmot, 88, of Auburn, passed away Sunday, July 16, 2017 at Auburn Community Hospital surrounded by her loving family.
Helen was born in Skaneateles on Aug. 17, 1928, the daughter of Raymond S. and Alice (Adlam) Dando. Helen retired from Cayuga County Homsite Development Corporation where she was an administrator for the Section 8 housing program. Her dedication and compassion to her clients earned her an award from the NAACP. She was an avid reader and enjoyed her visits to Seymour Library. Helen especially enjoyed spending time with her family, supporting them in school, sports and the performing arts.
Helen is survived by her children, John (Karen) Wilmot, Sara Hoskins, Kurt (Linda) Wilmot, Kristen Wilmot, Elizabeth Wilmot-Bishop, and Drew (Karen) Wilmot. She is also survived by her sister, Muriel Dando; her brother, Richard (Joan) Dando; 16 grandchildren; 17 great-grandchildren; several nieces and nephews, and many wonderful friends.
In addition to her parents, Helen was predeceased by a sister, Kathryn and her husband, William.
Calling hours will be held from 10 a.m. to noon Saturday, July 22, 2017 in the Owasco Reformed Church, 5105 Route 38A, Owasco, N.Y. Services will begin at noon with a luncheon to follow at the church.
Donations in her memory may be made to Seymour Public Library, 176-178 Genesee St., Auburn, NY 13021.
Arrangements are with the White Chapel Funeral Home, 2719 Erie Drive, Weedsport, N.Y.